Student life at Bangor
Gold rated teaching
Bangor University has achieved a Gold Award, the highest rating possible, in the national Teaching Excellence Framework (TEF).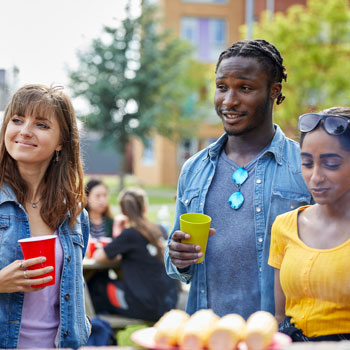 The TEF assessment took into account teaching quality, learning environment and student outcomes and learning gain. We were judged to deliver consistently outstanding teaching, learning and outcomes for our students and our teaching is of the highest quality found in the UK.
Academic excellence and a friendly atmosphere
Bangor is a vibrant, convenient and student-centred place to study, with the size and friendly nature of the University being one of the main reasons many of our students choose to study here. We are consistently rated highly for student satisfaction.
Stunning location
The location, the scenery and the surrounding area are also amongst the reasons why students choose to come to Bangor. All this on your doorstep adds a different dimension to student life, with plenty of places to visit in Snowdonia and the Isle of Anglesey, as well as easy access to cities such as Liverpool, Manchester and Dublin for shopping trips or days out.
Guaranteed accommodation in our highly-rated halls
We guarantee a room in our student halls of residence to all first-years who apply before the given deadline and select Bangor as their Firm Choice. We have around 3,000 rooms available, most of which are en-suite.
Our accommodation is all within walking distance of the main University buildings, city centre and local shops and supermarkets and we were rated 3rd in the UK at the What Uni Student Choice Awards 2019.
Free membership of all our clubs and societies
Bangor has around 200 Clubs and Societies, so there is bound to be something to your taste. Membership of any of our Students' Union's clubs and societies is free. You can find out more on our Social Life and Sports pages.
Our Clubs and Societies were named the best in the UK at the WhatUni Student Choice Awards 2019 and we came second for Sport and Societies in 2020!
Student Support
The Student Services Centre provides a professional support service for students. The services offered range from financial advice to welfare support, study skills, dyslexia support and counselling.
There is also a dedicated Disability team to provide advice and guidance on a range of disability-related matters.
Preparing you for the future
Our Skills and Employability Service offers a wide range of schemes to help students develop employability skills, including internships, work placements and the Bangor Employability Award.
Low cost of living
Research shows that the cost of living in Bangor is much lower than other parts of the UK. We have been ranked as the most affordable place to study in the UK, by Totally Money 2019.
Financial assistance
To support you whilst you study, the University has over £3.4M in Scholarships and Bursaries to award to undergraduate students. Find out more about the Scholarships and Bursaries the University has to offer on our Student Finance pages.
Discover Bangor University
To watch more of our videos, head over to BangorTV.